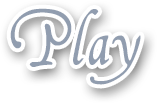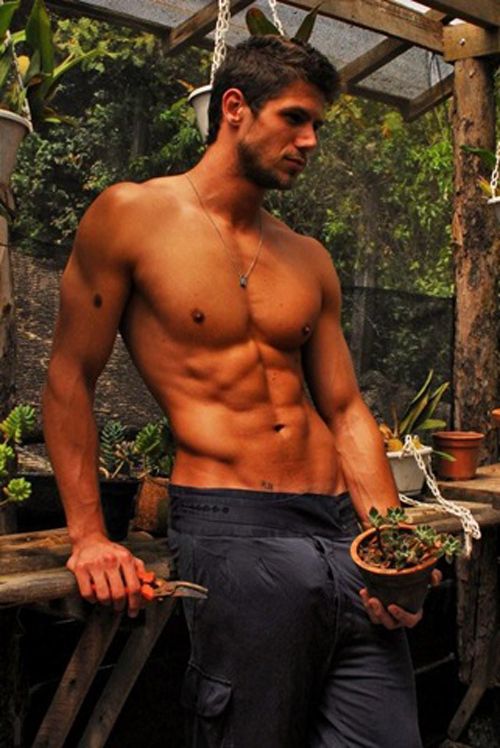 With spring just around the corner and me loving gardening so much, I had an appointment with a landscaper to help lay the plans I had all out. My usual landscaper was out of town, so he sent his partner over and I;d not met this man before. When he knocked on the door I was impressed with his good looks and hard body for sure. I told him I spent most of my time in my bedroom and the large bay windows overlooked my backyard and I wanted a lovely view of all the plants and flowers from there, so he asked if he could come up to my bedroom to have a look at the view.
It all started innocently enough, he came up and looked out the window and said what a nice view it was. I was standing beside him and looked into his eyes and as I moved past him my foot caught on the area rug and I fell back on the bed and laughed. He reached his hand out to help pull me up and by instinct I pulled him towards me and then we were both laughing and then it turned to kissing. Quite passionate and quite fast!
He was a good kisser and I said I bet he was good with his hands and he asked if I wanted to find out and I said I sure did! So soon his hand was under my skirt and I was a panting slut beneath this man I'd met only a short while before. Kissing and having his fingers in my pussy as I bucked up against him. It wasn't long until he made me cum with those magic fingers and we lay there panting. I had things to do and couldn't spend anymore time with him even though I wanted to, but asked if he'd like to come back for dinner…and dessert, later tonight and he said he'd be there with bells on. I shall look forward to it.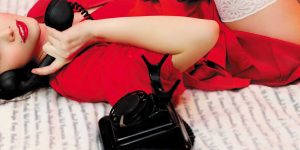 Some guys that call up phone sex lines are obviously very auditory. They like the sounds and the talking and the breathing and the moaning. I can think of one client that used to call and all he'd say was, "moan for me". He was an easy call in one way, difficult in another, as in no, I didn't have to talk or spin a fantasy, but moaning and breathing in a strange and not normal manner was hard to maintain and you'd honestly feel lightheaded from doing that. I recall on a nearly twenty minute call once, I nearly passed out.
Then you get the phone sex callers that are into blow job sounds and want you to suck on a toy for fifteen minutes. Again, you get the same type of jaw and mouth fatigue you can on an actual blow job doing that, and it can be tiring in a way people do not even comprehend. The sucking and especially the ones that want gagging sounds, you are trying hard to not gag enough to actually throw up as you're ramming that toy down your throat, yet you want to please them enough that of course they cum from it and get be really turned on.
Then you get the callers that are calling up and want to hear wet pussy sounds, so you do your best to simulate the sounds that will get them off and get them to blow a mighty load for you as you're talking naughty to them at the same time. Guys call up for all different kinds of phone sex, sounds are just one sort of thing that some are into. It turns them on to hear the sounds just like they are there getting their dick sucked and going wild as they fuck you. Sex must be a different experience for deaf people, well, I guess deaf people could get aroused with cam or cyber sex, but phone sex, yeah, that wouldn't be happening for them. So sloppy blow job sounds for them, sadly.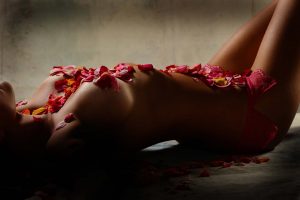 Valentine's Day is one of my favorite days of the year, the most romantic in any case. I am lucky that I have a very romantic boyfriend that I know will have a special evening planned for us. We've had several together as it is, and they are always a lot of fun and very sexy. I love to be pampered, what lady doesn't, and he knows the way to my heart is foot rubs, chocolate and sparkling wine. It will of course lead to other, naughtier things, like him licking my freshly shaved pussy and me sucking on his glorious cock that brings me such pleasure.
I bought some new, sexy red satin lingerie that I will be wearing, I'm preparing a wonderful meal for us and we will spend the evening making love. I've specifically not cum in an entire week to be extra horny for this night. It's been hard when I've wanted to cum, but we decided to both not cum for a week to make the night extra special, not cumming for a while can do that. Some phone sex callers of mine love to deny themselves for literally weeks until they have one huge orgasm as we talk on the phone. My night of upcoming romance will be one to remember, that you can be sure of.
My pussy has been horny for days, wet at all the wrong times considering I'm waiting to cum on Valentine's Day night. I will need at least five orgasms! My boyfriend loves to edge, he will tease himself for a while each day but not cum, I simply do not have the willpower to do that, once I start, I need to finish, so I dare not touch myself down there, it's been difficult enough rinsing off in the shower with the shower massager and not masturbating with the hot, hard stream of water on my clit. I will let you know dear readers next week how the night plays out on this Tuesday!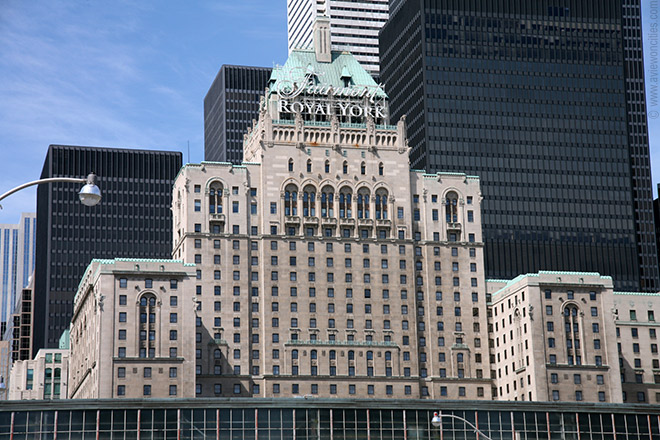 Recently I had to go to Toronto for the day and I went by train. I was seated next to a very handsome man and we chatted all the way there and got along very well, I found him not only charming, but was attracted to him and was sorry when the train got in that our little visit was over. I didn't think I'd see him again. I went about my appointments I had in town and had grossly misjudged the time I would need and I had to kill five hours at the train station waiting for my return train home.
I'd worn some very sexy stiletto heels and although they looked great, I was in no condition in them to walk around to shop or sight see. My feet were not going to take it. I had just sat down and saw the handsome man from the morning, he sat down beside me and said he'd had to change his ticket and stay the night in town, his business meeting had been extended and they needed him the next day as well. I told him about my having to wait five hours for my train and he said he was staying right across the street from Union Station at the beautiful Royal York Hotel and wouldn't I be a lot more comfortable waiting and chatting in his room and have lunch with him before returning home? I couldn't say no.
We walked across the street and went up to his room, the entire hotel is beyond gorgeous, as was his room. He called down for room service and it was there in no time flat and we had a wonderful lunch and even more wonderful conversation. It was no secret I was attracted to him, and the feeling was mutual. He leaned over and kissed me and I loved the way he kissed and smelled. Needless to say, it didn't take us long to fall into his king sized bed in that beautiful room.
He peeled my clothes off and I his, as we caressed each other and he had the most wonderful hands that touched my pussy just how I liked to be touched and he easily made me cum. He then kissed his way down my body and licked my already wet pussy and tickled my clit as he flickered his tongue all over it and I was grabbing his hair in my hand and pushing him just where I wanted him to go and again, I was soon pushed over the edge into another orgasm.
He had certainly ensured I was already pleased and primed before he even got that large cock into me. He asked me if I'd ride him and I didn't need to be asked twice. I straddled him and easily slid down onto his girthy cock and rotated my hips so my clit was grinding against his cock. My tits were bouncing and he grabbed my breasts and rubbed my nipples with his thumbs. I kept bucking against him until I came a third time and I felt his cock go off inside of me and we just lay there, panting and spent. I showered and freshened up and we had another drink and soon it was time for me to go catch my train back home. I was sure glad I'd overestimated the time I'd need, since I spent the day doing many naughty and fun things with the handsome stranger from the train.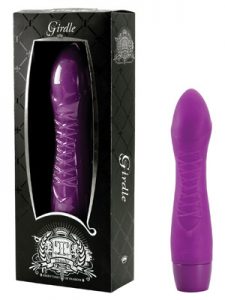 I recall one of the first times I had phone sex with a boyfriend of mine, we hadn't been going out long and hadn't had sex yet. I'd told him I had bought myself a new vibrator earlier in the day and I was wondering if I was going to like it. He laughed and said there was only one way to find out. I said yes, I'd have to be sure and try it soon. He said no, I mean I want you to try it right NOW!
I wasn't expecting that, but why not, I was wanting to try it and he was pretty sexy after all, so I said ok, let me get it. I got it from the bag on the chair and unwrapped it and put in new batteries I'd bought for it and he asked me if I was naked on the bed. I said yes, I was. So he had me turn the toy on, on the lowest setting, lay back and slowly start to touch my pussy lips with it just as he told me to. It felt really good, teasing me. I said I wanted to turn up the power and get more into it, and he said no, not until he told me to. So I did as I was told and touched myself with the toy exactly as he told me to do. I thought I would go wild wanting to turn that toy up, but did as I was told, hard though it was.
He told me he too had started stroking his cock as he was listening to me get aroused with the new vibe. His voice sounded so low and sweet and sexy. His breathing slightly raspy. He told me to turn it up to the medium setting. I did so and moaned at the extra sensations I was feeling as I bucked my hips up to meet the toy and was so fucking dripping wet I thought I'd cum any minute. He told me to remove the toy completely and calm down. I did and caught my breath. After a few minutes, he told me to dial it up to it's highest setting and use that toy on my cunt until I exploded in orgasm. After a few moments of that exquisite agony, I did indeed cum and he did seconds after, it was a fucking great toy, that's for sure! And now that I'd heard him cum, I didn't think it was be going to much longer until I took our relationship to the next level.