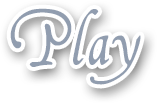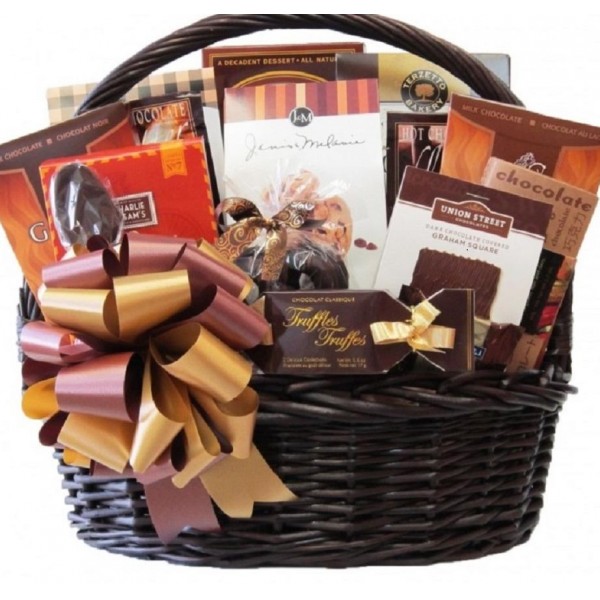 A client of mine recently wanted to buy me a gift basket. He said that was more personal than some Amazon gift certificate, which would have been the easiest thing to do for sure. So he had me pick a few baskets and then he chose the one to send, so I chose a chocolates gift basket, since I adore chocolates. So the next day there's a knock at the door and it's the delivery guy with the gift basket is there and it's huge, I never expected such a large and beautiful gift basket! They guy delivering it is gorgeous as well.
I invite him in to put it down and he's so handsome I cannot stop staring at him and ask him if he'd like a hot drink, since it's pretty cold out this evening, his last delivery of the day. He gratefully accepts and I make him a hot chocolate, and we sit down and I tell him a nice client wanted me to have this lovely gift basket. I open the gift basket and there's a small pot of chocolate body paint inside and I smile and open it and place a dab on the delivery guys mouth and lean down and kiss it off.
Soon we are soon fucking on the kitchen table with chocolate smeared all over us. This gift basket sure turned out to be one hot idea. I slathered his large cock with the chocolate body paint and just lick off every inch of it before he plunges that sweet cock into my cunt. His cock stretches my pussy open as he eases it into me. I grasp his butt cheeks to pull him in even deeper into me and the table is bumping against the wall with every thrust and we fuck until we are both spent and exhausted. I later tell my client what happened and he said he's glad his gift not only satisfied my sweet tooth, but also brought me some hot sex as well.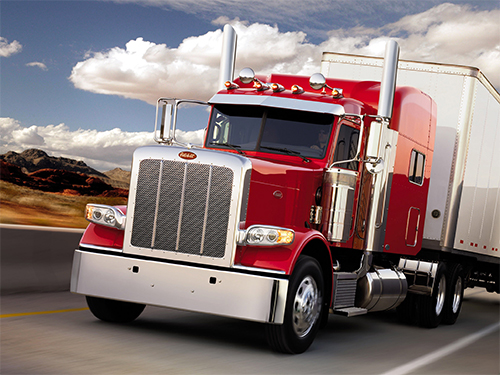 I was telling a phone sex caller of mine a funny story that happened to me a few years ago. It wasn't funny at the time, but I can see the humor in it now. I was working at a place around a 40 minute drive from my house and I had just started home when my boyfriend called and was really horny and wanted to play. I said just wait til I get home we can fuck then. He said he couldn't want. He wanted me to masturbate right there in the car as I drove home. I said it was rush hour and not only not safe, but I'd be sure to be seen by drivers in vehicles higher than I was driving in.
He literally begged me to touch myself and I was thinking this wasn't a good idea, but I went along with it and boy, I was right. An 18 wheeler truck pulled along side of me and there was also a man in the passenger seat outside my drivers side door. I hear the horn blow and looked up and he was grinning from ear as he looked down into my window and saw my skirt up passed my hips and my hand down my panties as I had my cell phone in one hand and my cunt in the other as the man looked down with great interest as I massaged my clit while talking to my boyfriend all while trying to drive. The traffic wasn't moving very fast, so I didn't think I was in any danger of a driving accident, but embarrassment was an issue I was dealing with at this very moment. I then saw him start to take pics with his phone and I had no idea where they would end up.
My boyfriend was stroking his cock on the other end of the phone oblivious to what was going on, on my end. I didn't know what to do, so I just kept up what I was doing and got closer and closer to orgasm, even with the truck guy watching. I was lost in the sensations of my pussy and my boyfriends sounds, and I let out a tremendous, guttural scream as I can and he went crazy, taking even more pics as I was writing and cumming in my seat. It was a drive home to remember and when I got in my boyfriend was still rubbing his cock and I went over to ride him, it was fucking hot.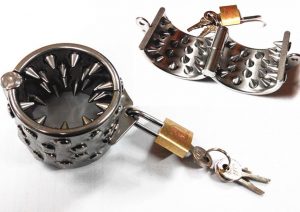 I love when guys call up for cock and ball torture phone sex. It always amuses me they want their most tender bits hurt. Lots of guys have pissed me off in my life, so it's really easy to imagine any of them in the place of the worms on the phone. Kicking them, kneeing them in the nuts, no issues here. I'll kick those family jewels until they go back up in your stomach, loser! LOL!
A crying heap on the floor is what my goal is for you. Think I care if you're squalling in agony? Nope. Most men deserve pain, and I'm more than happy to dole it out. Better get out the fishing line and the nail glue, since I want to encase your cock in fine, clear wire and glue your pee hole closed. Your pain is nothing but amusing to me. I'll put on five inch stiletto heels and pin your useless dick underneath. You'll have to beg and cry for me not to go all the way and impale that useless appendage. You'll really have to beg to convince me not to, I can promise you that!
How about if we get a lemon, cut it in half, and then squeeze some of that juice into your hole. Sound like a plan? I want you to feel the effects of talking to me on the phone for your cock and ball torture phone sex session for days. If done properly and you do as you're told, you will. I can promise you that. You think you can do a number on yourself, it's nothing compared to what I have in store for you. You'll need medical grade pain killers by the time I'm through with you. Think you can handle it? We shall see, won't we now….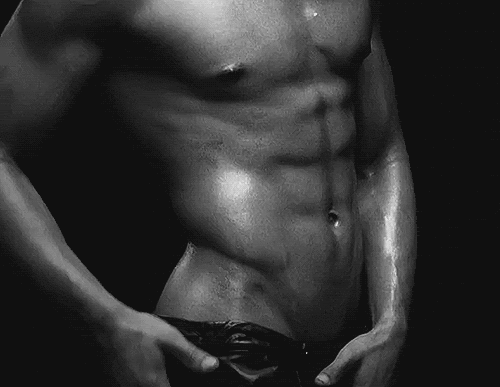 People think men are only calling other women for phone sex, but we can promise you, many men are calling on other men when they have a hankering for phone sex. Other women are not only where it's at, some guys really like to jerk off with other guys and that's the turn on. They might never decide to be with another man sexually, but many times the early experiences of circle jerks and all kinds of sexual interactions don't go the same for girls. Men have a unique bond in some ways.
Men might not be comfortable in real life to get it on with another guy they might be fantasizing about, but some will go so far as to have phone sex with another man and be thinking about them for every jerk off session for the rest of their lives. So many guys I speak to have had a same sex experience at one point or another in their lives and it's had a major effect on them. Gay and bi phone sex can sort of help them relive those times without the real life consequences on some level.
Men are usually much more upfront than women are, more likely to state what they want and seek and not play games. So I can see this being a popular aspect in another guy they might be phoning with, no head games. So many guys accuse women of playing games, and men with other men just don't seem to be into all that. So I can get how they would be happy to play with more direct men.