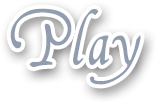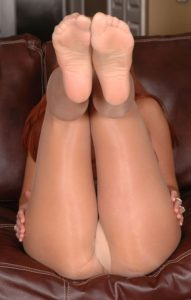 This guy I've been seeing, he's got quite the fetish for pantyhose. He's quite unhappy they are not as popular as they used to be years ago. Now most women favor the bare leg look and it really isn't as flattering. I like pantyhose and stockings as well, so it didn't take a lot of convincing me to wear some for our sexual encounter. He warned me he like to rip them off, so he didn't want me ruining any expensive pairs of them, so I stopped off at the dollar store and got several pair that weren't going to break the bank if destroyed.
I greeted him in the pantyhose and a bra, with no pantyhose on under the sheer to waist ones I chose. I could practically see him getting hard when I opened the door as his pants grew tighter. He came in and I took him to the sofa and poured us some wine and sat there teasing him as I crossed and uncrossed my legs and he could see my pussy lips through the nylons. He was practically salivating at the sight of it. After a while I got up and took him by the hand and led him to the bedroom and we started to kiss passionately on the bed.
He was running his hands over my nylon covered legs and teasing my cunt lips through the pantyhose and then he started to kiss down my breasts and to the nylon covered crotch. I so badly wanted his tongue inside of me, and he reached up with both hands and tore the pantyhose open and exposed my cunt at last, kissing my pussy deeply, licking my clit and sucking on it, and giving me a tongue lashing until I came explosively on his face. Not quite sure what it is about pantyhose that drives him so wild, but I like it!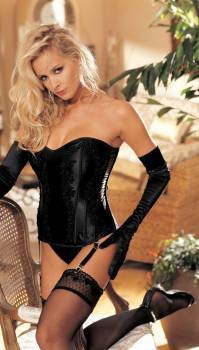 I got some silky new lingerie for my boyfriend to enjoy on me and he went wild for it. He adores black satin and how cool and smooth it feels under his fingers. I got all dolled up for him and he loved it. One thing he's always enjoyed is teasing me over the panties and making me beg for him to touch my pussy. His fingers were ever so lightly grazing over the crotch on my black, satin panties and making me moist.
I could feel a wet spot starting to form on the panties, and my nipples were all hard. I begged to feel skin against skin and he just whispered, "You're not ready yet." I felt my wet cunt lips opening underneath the panties and his fingers rubbing my clit over the satin and I was getting wetter and wetter and wanting to feel his skin against mine. He finally slid his fingers into my shaved pussy and my dripping cunt was so waiting for his fingers to begin their magic on me. My back arched and I bucked up towards him and kissed him passionately as he fingered me and slid his fingers in and out of my pussy.
I was ready for his throbbing cock inside of me and when he got on top of me and pushed his way in, I wrapped my stocking covered legs around him and pulled him as deep inside as I could get him and it was heaven, he pumped and he thrust and it wasn't long until I exploded all over his cock and then him inside of me. I was sure glad I'd gotten that lingerie, it always gets him going t see me in that!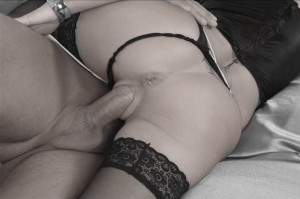 Does the idea of making love to a woman wearing lingerie and stockings excite you? I know many men are aroused by the thought of a lady wearing silky, lacy things for them prior to them getting down and dirty. Some even enjoy the lady wearing them as they are having sex. I can well recall one man saying he only wanted to sleep with a woman if she was wearing panties. Others have said they prefer to fuck a woman and just pull the panties to the side.
The texture of most lingerie garments is very nice and silky, smooth to the touch against their hands and fingers and cocks. Needless to say many men enjoy wearing lingerie themselves for just this reason, the texture on their skin is fantastic, but there are men's silk boxer shorts that provide the same feel, so I can't totally go along with their texture explanation since they have their own they could be wearing out of the same fabric.
The look of a woman in a corset, garter belt, stockings and heels is very sexy, no doubt. Some of the old school men are also into seeing their ladies in slips and long line bras and girdles. I think they are either older to have seen their own ladies in garments like these, or else they have memories of seeing their mom or grandmother in a state of undress and it left a long lasting impression on them for it to still  be a turn on to see such old fashioned garments in little use today, but there are fans out there of them, not a doubt.