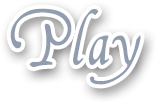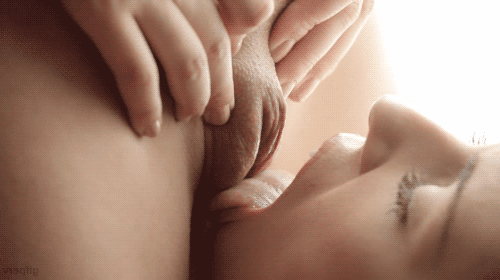 I had always harbored same sex fantasies, but never acted on them or had an opportunity to even if I wanted to. When I was in my late thirties and my husband left me for a younger woman, I was sadly then in the same boat as several of my female friends. Middle aged, divorced, and alone. I still had needs, wants, desires. I didn't have tons of men beating down my door, and one night I was commiserating with a good friend of mine that had been through the same thing as I was going through, and one night we started to talk about how much we missed sex and about some of our sexual fantasies.
I told her for years I'd had lesbian fantasies and thought of a woman going down on me when it was my husband and she giggled and said it was the same for her, many times she'd close her eyes and imagine another woman between her legs, not her husband. She too had not had an opportunity to play with another woman but was open to the idea if it came around. We'd had a few bottles of wine with dinner and I playfully reached over and kissed her and she kissed me back.
We were both a bit shocked at it, but it didn't stop us and we continued and things went along, I was soon squeezing her breast and playing with her nipple. I could tell I was getting wet and I'd bet she was as well. She played the next move and slid her hand up my skirt and I could feel her fingers toying with the ever dampening crotch of my panties. My clit was stiff and wanted to be touched. I spread my legs wider to allow her access and she got the idea and slipped her hand into my panties.
I was slick with my own juices and she stroked my clit gently at first before speeding up her caresses until I was bucking against her hand and soon came from her touching me. I then wanted to return the favor and laid her back and stripped her down naked and I was soon kissing down her belly to get to her sopping wet cunt, which I soon had my face buried in. I licked and I sucked at her juicy pussy, and she smelled and tasted incredible.
Her fingers were in my hair, guiding my hungry mouth to just the right spots and I was lapping furiously at her cunt and I was soon rewarded with a face full of juice. I licked it all up and we were both left a sweaty, breathless mess. Covered in our own and each other's wetness. We lay there in each other's arms, half surprised, half embarrassed by our unexpected evening of passion. I think it's good we revealed this to one another. We felt even closer as friends, and I've not a doubt we will have more passionate evenings like this one ahead of us very soon.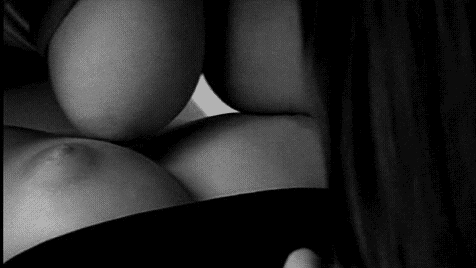 The whole time I was in school, I had a best friend and we were very close. A lot closer than anyone guessed. She was kind of adventuresome and naughty and she made me so, too! We had frequent sleepovers right until we finished high school and the things we did during those sleepovers, no one will ever know. I well recall her telling me and showing me, how to masturbate. I was shocked when she told me, but then she told me to watch her do it, then told me to and from that first time on, we masturbated a lot together. It's hard to believe the things we did and my parents never suspected or found out. We'd be finger fucking each other and French kissing all night and they never had a clue.
She got a boyfriend before I did and she loved to tell me all the things they did sexually together, she told me in such explicit detail, I felt like I'd already done the deeds when I finally got a boyfriend of my own and I was able to put all this knowledge to practice when I got a guy. The first time she was gone down on, she loved it and wanted me to know what it was like as well and she wanted to do it to me, and I was a bit unsure. I mean, finger fucking and kissing was one thing, but she wanted to lick my pussy! I agreed and oh my God, I couldn't believe it, I loved it even more than her fingers caressing me. I laid back nervously and opened my legs for her and she kissed the insides of my thighs and lightly opened my pussy lips with the tip of her tongue and teased my clit. She slid a couple of fingers inside my pussy and worked on my clit and sucked my inner lips. I put my hand on the back of her head and just pushed her face into my cunt and she hit just the right spot and drove me crazy. We had to always be careful and be quiet when we had our sleepovers so my parents didn't hear any orgasmic screams of ecstasy coming from my bedroom as she licked my teenaged pussy and sucked on my clit until I came and came and came…
I of course returned the favor and had no problem telling a boy how I liked to be eaten out. It was funny, I directed him so much he said he'd think I'd had more experience than I claimed to. I truthfully said a boy had never gone down on me. LOL, I just didn't let on that my best friend went down on me all the time! He'd likely have been so turned on if I told him that, but I didn't let on anything. As we saw boys more, we didn't play as much together, or have sleepovers as often, and after high school, we never did again, but it was fun for many years and we certainly had lots of fun together exploring each other and learning how to do this and that.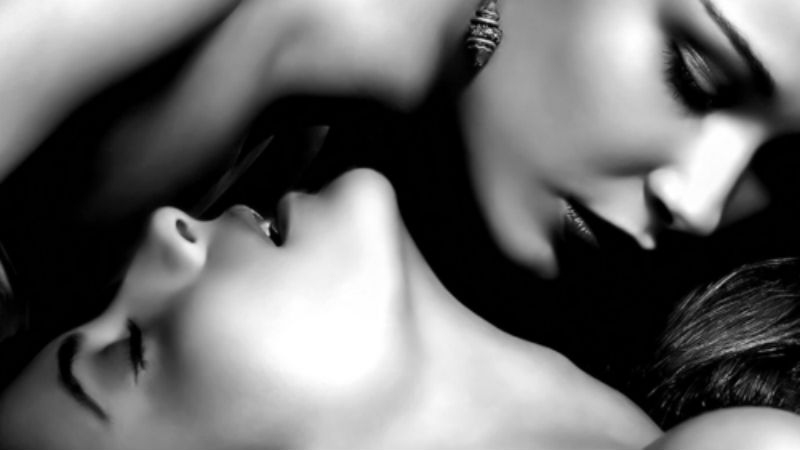 I've always been attracted to girls, and when I was in my teens I started to do something about it. I recall after I started to masturbate, telling a friend of mine about it and she was curious, so one day after school I showed her and she thought it felt good too, so we started to do to together and enjoy watching each other play with ourselves. It didn't take long before we went from doing it in the same room to touching each other and enjoying ourselves that way. I loved to rub her pussy and make her cum, it was as fun as making myself cum.
She was a fast study and we had fun touching each other's pussies and of course it soon evolved to licking each other and making ourselves cum that way, I did this with several girls when I was in school. When I went to college, that's when my real inner slut came out and there were lots of girls there that were totally open lesbians, they weren't trying to hide it at all and many were quite aggressive and I let them have their way with me and I loved every minute of it.
One girl I dated for a while was quite adventuresome and wanted for us to try a threesome with another girl, and we both knew lots of lesbians, so it wasn't hard to find a third for our little evening of debauchery. One of our friends came over one night and we started to kiss and touch each other and things soon made their way to the bedroom and I was laying on my back with my girlfriend licking my juicy, wet cunt, and our other friend sitting on my face as I went down on her, inhaling her pussy aroma and licking her stiffened little clit as she rode my tongue and sought her release.
I sucked at her pussy as my own was being licked and I squirmed for my release as I was working on hers and all of a sudden I was brought over that edge or orgasm and she came at the same time on my face, fuck, I loved pussy. I reached up and squeezed her breasts and rubbed her nipples, just enjoying licking her juices off of her as they poured out of her beautiful pussy.
She got off of me and we all just laid there wrapped around one another for a while, our gooey pussies dripping from cumming so much and all over each other, then hands started to wander once more to one another's cunts and teasing each other. We had a wonderful evening and I have indulged in many more such threesomes since. My girlfriend and I love to tease guys by kissing in front of them, you can just see the bulge in their pants begin to grow as we kiss one another. You just know they are going to go home and jack off like teenagers after seeing us like that, silly boys. I don't need any cock to keep me satisfied!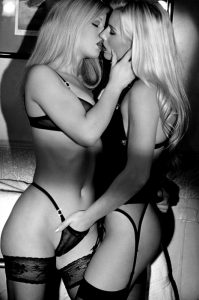 It had been a while since I engaged in lesbian sex, but recently I got to. I was visiting an old friend, and when we were younger we had engaged in a few threesomes with my boyfriend and it was always hot. Sometimes I thought I enjoyed playing with her more than the actual threesome part of things. I connected again recently with her and she invited me down for the weekend and she was just as beautiful as ever. I felt that familiar tingling in my loins when I saw her. We had dinner and talked about old times and the subject of our previous threesomes came up when we'd gone down on one another and how hot it was.
She confessed to me she still thought of those times when she masturbated and I said I did as well. So we said why just think about old times, why not have some new experiences? She reached over and kissed me and my nipples got hard at her kissing me. I was soon snaking my hand up under her skirt and found the crotch of her panties moist, I slipped my fingers inside of them and began to rub her clit, which was nice and stiff for me.
We stood up and slipped out of our clothes and were soon nude and laying on her bed, this was going to be the hottest lesbian sex I'd had to date yet. She lay back and spread for me and I knelt between her legs and started to kiss up the inside of her thighs and then my tongue met her pussy for the first time in many years, and she tasted as good as I remembered. I licked her and teased her until she was writhing underneath me and soon came on my face, and then she pulled me up and kissed me passionately, tasting herself on my still wet mouth.
We kissed and caressed and touched for hours until we were both so wet and juicy it was incredible. She reached over to her bedside stand and opened the drawer and pulled out a double headed dildo and asked if I'd like to try it, I was game for anything, so said why not. She slid around six inches into my pussy and then she guided it into herself and our pussies were touching, half of the toy in each of us and we started to buck against one another and it was a most pleasurable sensation and our nipples were rubbing against each other as well and I was really getting aroused grinding me clit against hers as this toy we were sharing was between us and inside of us. We both came very loudly, our arms wrapped around one another as we came from the bumping against one another, it was hot. Very hot. I really do enjoy lesbian sex a lot, I should try and get more of it, it's been far too long since I had any, and this weekend sure made me realize what I was missing.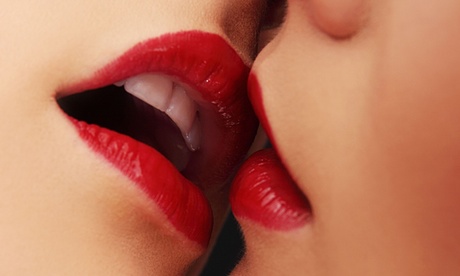 Let me tell you about the first time I ever licked another girls pussy. I can't say it was one of my prouder moments, but ya know what, stuff happens. I was at this party right after I started college and to be honest, I was pretty drunk. I was horny, hadn't gotten laid in months and this girl that was also drunk came onto me. She and I were on this sofa in this empty room, most of the guests had either left or passed out or wandered off to the bedrooms of the house the party was in.
She started kissing me and I didn't really stop her. Our tongues felt so good together, it got pretty hot, pretty fast. Passionate kissing and then her hand wandered up under my skirt and she started toying with my pussy lips through my panties, which were quickly becoming damp. My clit was stiff and she pushed her hand into my panties and started to massage it and drive me crazy, then she asked me if I'd ever been eaten out by another girl and I said no, then she asked if I'd like to try it. I have to say, I was curious to see if there was a difference between a woman going down on you and a guy.
I said I'd like to try it and she knelt down on the floor in front of me and pulled my panties down and my skirt up and her face was just buried between my thighs and boy, did she know what she was doing! I had my knees over her shoulders and my hand on the back of her head and was bucking my hips upwards getting her face all wet. She sucked and licked my clit until I thought I'd go wild and when I came, I was biting my lip so the others wouldn't waken and hear me it was so intense. She let me rest about 5 minutes before she resumed licking and gave me another fantastic orgasm. She licked better than any of the guys I'd been with, I can tell you that.