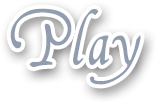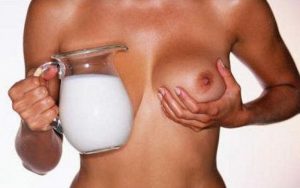 One of the things some naughty men call about when they call me for phone sex is breast milk fetish. I don't mind breast milk calls, and some are also into the whole impregnation fetish as well. The intimate type of lovey, dovey calls are not everyone's cup of tea, or cup of breast milk as the case my be, but they do have their fans. Some love to think about latching onto my breast and suckling to get their nourishment.
Some also like to pretend I'm mommy on such a call, but not all of them. Breast milk and lactation fetish is a real thing with some men that are into the whole fertile woman thing. One man used to call up that wanted to impregnate an entire remote mountain village of women since the men in the village were all sterile and he was going to be responsible for impregnating them all. Medical fetish came into play on his calls as well. Not a lot of gals are comfortable with medical fetish calls, but I don't mind them and breasts, examinations, some even like to get into sperm output measuring, all kinds of things come into play on those calls.
Breast milk though can be very nurturing. Many men are into large breasts, and tit fucking comes into it as well. Milk squirting all over their cocks as they give you a good old fashioned tit wank, spraying their dicks with your sweet milk. So they spray you with their cream, you spray them with yours. How cute. Give and take! Body fluid spray down. Some also like if your breasts are big enough so that you can suck them as they watch. You can latch onto your own nipple and drink in your own milk as they latch onto the other at the same time, sharing your sweet nourishment.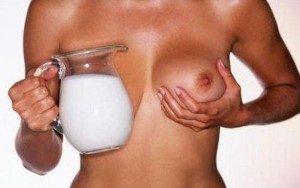 My current boyfriend is really into lactation, and although I'm not pregnant, he started reading up on how he could get me to lactate so he could nurse from me. I didn't know it was possible, but it is. With the help of some herbal supplements, I didn't want to take full fledged hormones, and a breast pump, his massaging and suckling, after a few months of dedication, he's gotten it to work.
I never dreamed I'd be breast feeding anyone, but his love of breasts and breast milk made me want to try it for his sake. It's made him very happy. I don't know how long I will keep this up, but it's been very pleasurable for the both of us and added a whole new dimension to our lovemaking. I will feel his hands kneading my breasts and the milk will start to flow, drop by drop, then he will latch on and drink sensually from me as we make love. He's a very sensual man, and adores being very affectionate with me.
Lots of callers over the years have expressed an interest in talking about breast milk and lactation on phone sex calls, and I've always enjoyed such conversations. It adds a whole new level of intimacy to our relationship. Some men have no interest in breast milk fantasies, but for others, it will really turn them on to a whole other level of togetherness as a couple. It's not something we share with our friends, they might not understand, or find it weird or unnatural even, so it's our own private thing we enjoy.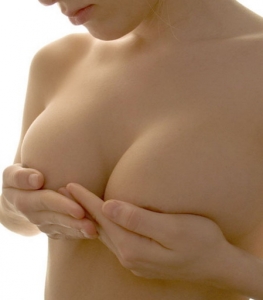 Do you have fantasies of suckling at the breast of your lover? Does a lactating woman get your juices flowing like nothing else? Would mommy feeding you drive you wild before she does other naughty things to you? These are just some of the thoughts that run through the minds of men that are turned on by lactating women and consuming the breast milk that comes from them.
I've got several clients that are wild about the fantasy of nursing at their lovers breast, being nourished in a special, intimate way. Usually large breasts are apart of that and when they have had pregnant mates, if they have had in the past, they always speak of that time with great fondness as to how their wives or girlfriends breasts grew to a much larger size and how much they appreciated them and wanted to titty fuck and grope them and squeeze them and drive themselves wild with them during this brief time of them being bigger.
I've never lactated myself and never will be, but I can understand the appeal of how erotic it is. From what I've read online, many women have gotten aroused during breast feeding and it's been a troubling situation for them to feel that, hopefully most have partners that can satisfy that after they have fed though or they can masturbate after. The naughty boys that call me though are all grown ups, and grown ups can play at all sorts of naughty fantasies. So if you have a hankering for breasts and breast milk, I think we can have a nice, sexy chat about it.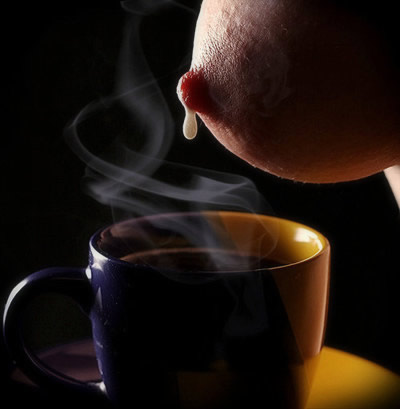 The nurturing, sweet warmth of breast milk is appealing to many men. Not all men into this fetish are into mommy/son calls. Some just love the absolute intimacy of taking in your milk as you are making love with each other. A woman takes in a man's cum, unless a woman squirts, and not many do, there's not the same release of fluid in comparison. A woman that is filled with milk can give that fluid a man can swallow and take into himself.
Most men LOVE breasts, adore them. The soft, full curves and the hardened peak of the pointed, erect nipple can make many men hard just by seeing a stiff nipple under a tee shirt or sweater. The erectile tissue of the nipple works in the same way as a cock gets hard, it's erectile and responds to arousal in many women. Some can get hardened nipples when they get aroused, others need extra stimulation to get them hard. I've never lactated myself, but I do enjoy calls where men like to talk about breast milk and their lactation fantasies, which many times go hand in hand with impregnation fantasies.
Fantasies are funny things, they are many times not based in reality. As women would have to have given birth to be lactating, yet many men into this fantasy imagine either a woman lactating without having had a child, or while they are pregnant and would not yet be lactating. No need to worry about the details, it is fantasy after all. Some of the things I hear on calls are way far out there and no basis in reality, so most understand things do not have to have a valid basis in reality to star in their fantasies. So if breast milk phone sex is what gets you going, do give me a call and we can have a talk about it tonight!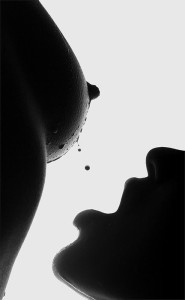 A fetish some men have and enjoy talking about is breastmilk fetish. They love the idea of nursing on a pair of big milky titties. I have a few clients into this particular fetish and it arouses them a great deal to talk about milk filling the breasts to overflowing and them nursing on them and getting nourishment from their lovers breast as they make love. It's a real bonding experience.
Not all into breastmilk fetish are also into the mommy thing, some are yes, as obviously when one thinks of breastmilk, they think of a mother, since one wouldn't be having milk in their breasts unless they were having recently had a child, so sometimes they go hand in hand, but not always. It can be an exchange of love juices type of experience like a woman swallowing cum and taking a part of her man into herself. He would be taking  apart of her into himself in the same way by drinking her breastmilk.
It can be very sensual, loving and very intimate to talk about I have found. Many of the men into this like to talk about making love rather than having sex. It can be quite enjoyable and nurturing to have such a conversation about cradling them in your arms and nourishing them and giving them a part of yourself. Your breastmilk giving them energy to keep making love to you for longer and longer. So if drinking breastmilk is your particular kink, give me a call and we can talk about you latching onto my perky nipples and drinking from me…