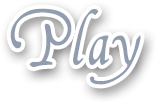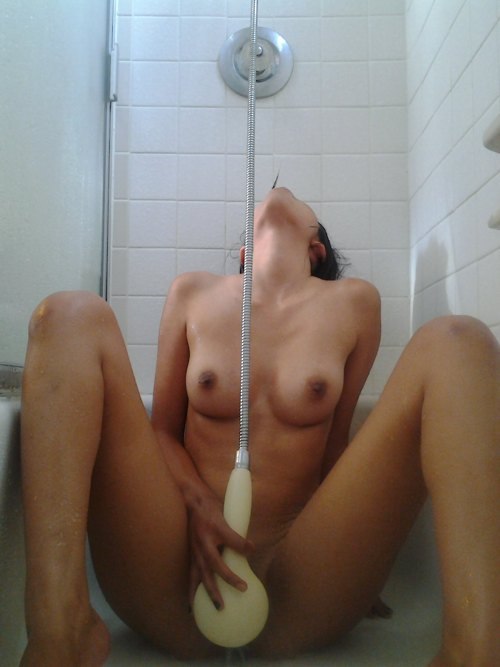 One thing I've always enjoyed is masturbating in the shower with the shower massager. Feeling the hot, strong stream of water on my clit makes me cum so fucking hard. I mentioned this one day to my phone sex partner and he said he wanted to hear me do it to myself. I said it's nicer to talk for longer on the phone and play in bed with my fingers, but he was really excited to hear me in there, so I said ok.
So the next time we were going to have phone sex I told him I was going to get in the shower. I hadn't cum in a few days, so was getting kind of horny as it was. I stepped in naked and turned the water on while I was on the phone with him. He was already stroking his cock. I turned the massager head on the hardest setting and put one leg up on the side of the tub and turned the water even hotter than it was and I started to moan as soon as I felt it touch my clit. I was feeling it drive me crazy and totally lost in the sensations. I could hardly even concentrate on what he was saying it felt so good at that moment.
I don't take long to cum in the shower, it's such an intense orgasm that way. It's hot and hard and explosive as hell. He came just as I was starting to, and I screamed like I was going insane and it echoed off the bathroom walls and sounded so loud. He said he blew a tremendous load listening to me carry on that way and cum so hard. When you cum that way, it's so intense you don't need more than one orgasm, your clit is totally numb from the intense sensations. It's a fucking good time!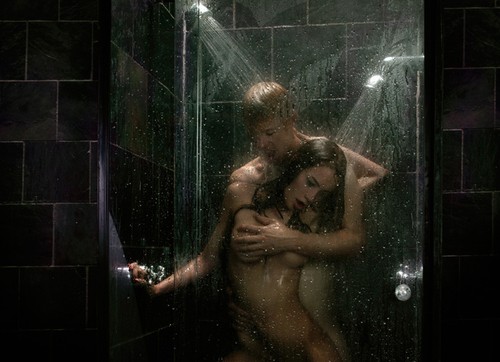 Last night my boyfriend and I took a long, steamy shower together and fucked in the shower, the hot water coursing over our bodies. He soaped me up and spent extra time rubbing my soaped up breasts and washed my pussy and I got down on my knees and washed his cock and balls and gave him a long, slow, deep blow job.
I took his cock in my hand and slowly worked it up and down and massaged his balls as well, then lowered my head down onto it as I looked up into his eyes, the billowing steam making everything look soft and out of focus. After I rinsed the soap off, I licked and swirled my tongue around the head of his cock, caressing the shaft in my hand, my wet hair stuck to my back as he grabbed my head and pushed his throbbing, aching cock down my throat. I nibbled on his balls before returning to the head, and then he pulled me up and pressed me into the glass shower door until my tits were crushed against the glass and he took me from behind and we fucked so hard I was sure the door would come off the track.
I could feel his dick on my G spot with every thrust, and I reached down and was rubbing my clit as he fucked me. I could feel one hell of an orgasm welling up inside of me and he just kept pounding away at my bare, shaved pussy. I was soon pushed over the brink to orgasm and was soon contracting around his cock inside me, milking it, and my orgasm triggered his and all of a sudden I felt a warm gush of cream explode inside my dripping pussy and run down my leg, only to be rinsed off my the still flowing water that was cascading over us. It was a hell of a night!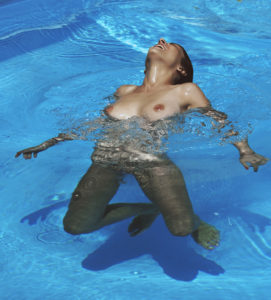 Now that summer is in full swing, my condo has the pool open and I love it, I've always loved to swim, especially in the nude. I thought I was alone the other day and was swimming nude when my neighbor came out and he could see me naked in the water, he seemed a bit embarrassed by it, but I always found him fun to tease and he turned around as I got out and wrapped a towel around myself and laid on one of the chaise lounges. He was wearing trunks and then got in the water without saying anything. As soon as he went back inside I opened my towel and was laying there totally nude and I knew he was watching me from the window, I giggled to myself as he did.
Later that night when it was dark I went back out for another nude dip and I always enjoyed masturbating by getting right up to the pool jets and letting that water hit my clit, but my back was in the direction of the door, so I couldn't see anyone, and I was moaning away as I let the water hit my clit and I came hard and I turned around and he was standing there. Now he hadn't seen anything of course since it was dark and I was under the water, but from my sounds and moans, there's no doubt what I was doing. I got out and walked past him and smiled as I grabbed my towel and wrapped it around myself and went back inside. The poor guy was practically blushing at my antics.
That night he went out to the pool and was sitting on the edge with his legs dangling in the water and I got in the pool and swam over to him and reached in and got his dick out and started to suck on it. He didn't stop me, I moved my lips all up and down that shaft and he was breathing so heavy as I sucked on him and cupped his balls. He had his hand on the back of my head and was really pushing on it for me to take his full length of it. I swallowed his load and then swam away, nude, on my back, grinning at him. I do love the summer and swimming and teasing my neighbor, it can be so much fun.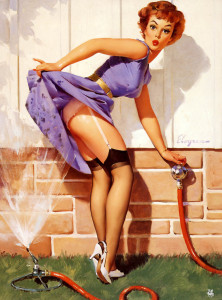 For March Break, aka Spring Break to you Americans, my boyfriend and I rented a condo in Florida. Some people we know have a condo there and rent it out most of the year when they aren't using it themselves. Now many of my faithful readers know I sometimes like to masturbate in the shower with the shower massager, I've done this most of my life.
When we got to the condo, there was a lovely garden out side and a very private backyard. There was some nice lawn furniture and I noticed there was a garden hose. In one of my audios I mention an experience in my teens where I masturbated with a garden hose the same way I do with the shower massager. I got a silly grin on my face and told my boyfriend about this and he asked if we might be able to recreate the episode. I was certainly game, why not. I did as during my first time with the garden hose in my teens, wait until it was dark out. I sat on the lawn chair and as a slight twist, my boyfriend aimed the hose at my clit, which I had fully exposed by holding my pussy lips open.
It was dark and no one could see that I knew of, and I slipped my bikini bottoms off and laid back in the lawn chair, it was a nice, balmy night, the stars were out and I just spread for my boyfriend and he aimed the hose right at it and I was squirming in minutes, I do hope the neighbors couldn't hear me. The type of orgasm that's water induced can be quite a fast and furious one and I didn't want to be heard in the middle of the night having an orgasm on the lawn. My boyfriend was quite hard as he was doing this and after I came.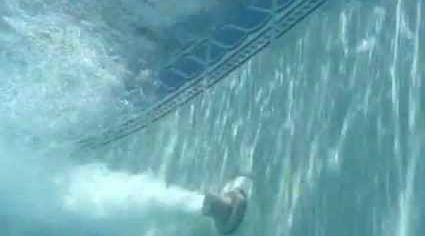 Summer is winding down, and it won't be too much longer until the chilly nights resume and one by one people will start to close their pools for the season this month, in Northern climates anyway. I was lucky enough last weekend to house sit for a friend of mine that wanted me to drop in to her home while she was away for a few days, turn on the lights, adjust the curtains, bring in the mail, so it looked occupied. She also told me to feel free to use the pool there anytime when she was away. I've always loved to swim, so I certainly did enjoy the pool nightly while I had the opportunity.
Most ladies will tell you they are no stranger to the wonderful orgasms that they can get from water, whether in the shower with the shower massager, the tub with the faucet, or in the Jacuzzi or tub with the water jets. I did nightly go over and swim in the nude, she had a tall privacy fence and the neighbors seemed to never be outside, so I felt free to go for a dip au natural and masturbate in the pool either right when I got in, before I got out, or sometimes both. It's very easy and relaxing to have an orgasm that's water induced, it requires no effort at all, you just stand there and either face the water jet and let it tickle your clit, or from behind is sexy as well, back up to the jet, bend over and have it hit your clit from behind, I love it.
I wasn't sure this one evening if her neighbor was on his deck looking over or not, it was very dark and he didn't make a sound but thought I might have seen the lit tip of a cigarette in the darkness as he possibly watched me, the pool was lit from under the water, so even though I didn't turn on the backyard lights, he'd have seen me via the underwater lights, and what a show he would have seen. He'd have known exactly what I was doing as I held onto the side of the pool and remained fairly motionless then all of a sudden whimpered in pleasure as my orgasm over took me. I will never know if he saw, or how much, but I will never turn down a chance to house sit for a friend with a pool.