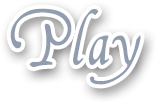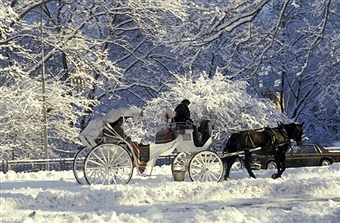 My boyfriend gave mea special treat this past weekend, he booked one of the carriage rides through the park for us. I have always loved going on them, though I've only been on a few in my life, but they are so romantic and charming. We had a nice, big blanket over us and the driver was paying attention to the steering of the carriage, so we had plenty of privacy and I was feeling romantic and it didn't take long for me to begin tostroke my boyfriend's cock under the blanket. We were kissing and wrapped all around each other, it was so sweet and romantic.
The bells that were on the horse's harness made a nice Christmasy sound as he galloped around the park and the snow covered trees were so beautiful. I soon felt my boyfriend's hand slip up under my skirt, as well and he was teasing me through my panties and I was getting wet. I spread my legs open further to give him better access to my pussy , and I could feel him touching my clit, so warm and so wet and so stiff. The driver was only a few feet in front of us and he hadn't a clue what was going on, though I doubt it would be the first time a couple was getting naughty while on a carriage ride!
We were touching each other under the blanket, trying to keep quiet so the driver wouldn't suspect anything, it was naughty and sweet at the same time. I could feel him cum on my hand, and he sped up the rubbing of my clit and I soon came as well. I bit my lip to keep from crying out and a few more turns around the park and the ride was over, it had been wonderfully romantic, I just loved it.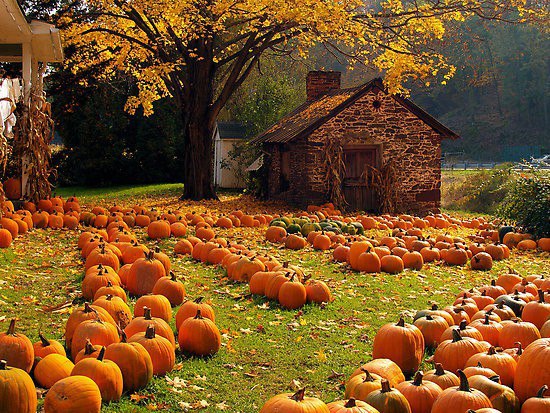 This weekend I went looking for the perfect pumpkin at a farm just on the outskirts of town. Some friends had told me what a lovely little farm it was and they'd gotten themselves some pumpkins to decorate the front of their own home with and they knew I'd be happy with the selections. I went out there and it was a lovely property, all done up for fall with scarecrows and pumpkins and gourds, bats and witches. A very handsome man came over to me and said it was his farm and could he help me with anything. I said I'd come to get around a dozen pumpkins to decorate my porch with and could he help me get some really nice ones? He smiled and said he'd be happy to help me.
We loaded up my trunk and back seat and I paid for them and he asked me if I'd like a little tour of the property, his other farm hands were helping other customers, so I said I'd love to. We walked all over and I was very impressed. We stopped in the barn which was filled with fresh hay and sat down on some bales and talked for a while before he reached over and kissed me and I kissed him back. The day was beautiful, he was handsome, it just seemed right. I kissed him back and reached over and rubbed his cock through his jeans and it was already hard. He touched my breast through my blouse and my nipples were already erect.
We lay back on the hay bale and started to make out and I was getting so turned on. I pulled my skirt up and I heard him moan with approval at my pretty, bare pussy. I wasn't wearing any panties .He climbed on top of me and slid his cock inside of me and we made love right there on the bale of hay. It was not planned, it was just one of those things that happens that will be a fond memory. I will go back there next year to buy my pumpkins, but it was likely a one time fun incident.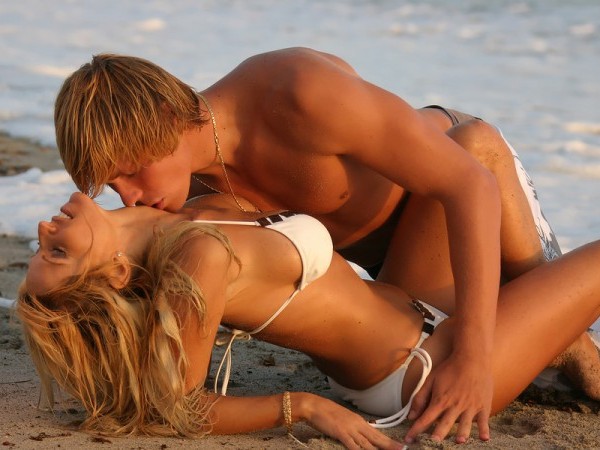 With the nice weather here now, I enjoy going to the beach once in a while. While I am in Ontario and ones don't think we have beaches here, we do. A place like Port Dover is right on the great lakes and can be a lovely place to spend the day enjoying the sun and the surf. I went there last weekend alone, just to get away, get some fresh air and relax. I'd packed a small picnic lunch for myself and set up my towel and sun umbrella and radio and was just looking out at the water.
It wasn't long until I noticed a very handsome young college age boy sitting not too far away and he seemed to be looking over at me and I was certainly checking him out. My bikini attracted him at first I guess, what young man, or any man, doesn't love a woman in a bikini? We exchanged glances for hours and as the day wore on, he came over and introduced himself, most of the other people on this area of the beach had left for the day and it was deserted. I asked him to sit down next to me. He did and we struck up a conversation that soon turned sexual.
He was as attracted to me as I was to him and he leaned over and kissed me and I kissed him back passionately. I felt kind of a slut making out with a guy I'd just met, but there was no denying the attraction to one another. He reached underneath me and undid my bikini top and I let him take it off, the bottoms soon followed along with his swim trunks. He climbed on top of me and thrust his cock into my pussy and we began to fuck there in the sand, he squeezed my breasts and I his ass cheeks and it wasn't long until I came from his thrusts, his cock rubbing right against my clit and of course when I came he soon emptied himself inside of me and we were laying there as the sun went down laying next to one another. We only knew each other's first name and that was ok. I really need to get to the beach more often, it was a lot more fun than I remembered it!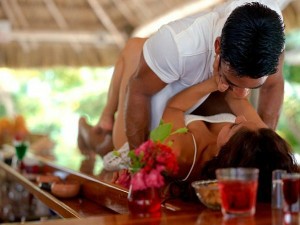 The great outdoors, what could be more natural. Now that the warmer weather is here, many couples and people individually, are moving their sexy fun outdoors. One of my more memorable masturbation sessions I ever had was outdoors in my teens with a garden hose using it like the shower massager on my clit. It was dark, but it was a front lawn, not well protected, it could have ended badly in many ways. Some callers have absolutely called from their backyards while on their decks masturbating.
I'm actually having a deck built this summer and one of the first things I thought of was how I'd like to masturbate out there, my luck I'd likely get a mosquito bite on my pussy. Lord knows I've gotten countless ones on my ass from going outside with no underwear on and something flying up my skirt, my thighs and ass cheeks have been well bitten with dime sized bites many times, so I don't want to temp anything. I've thought of having phone sex out on my deck, but I'm so loud when I cum, it would be like some sort of neighborhood mating cry. I'm hardly in a secluded country area where I could let loose and sound as loud as I want!
My bed's just too comfortable, I like will pass on the deck masturbation, but it's run through my mind, for sure. Some couples love to indulge in outdoor sexual adventures in the warmer weather and make love in the sun, the dark, some even have a fetish for fucking during thunderstorms! It takes all kinds without a doubt, and I'm sure many randy camping trips will take place over the coming months. I'm not one for roughing it, that's just not me. The allure of the sun on your skin, the breeze on your ass, some find that very enticing. Some cultures forbid outdoor sex, and they believe it will ruin the crop yields…lol.