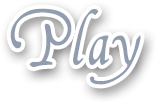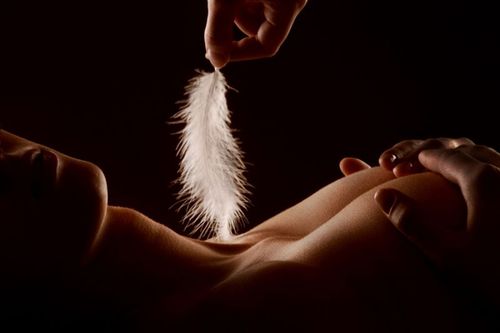 Last weekend I had a most sensual encounter with my boyfriend. He's always been a bit of a naughty type, interested in trying new things. He wondered if I might enjoy a bit of tease and denial and asked if I might be up for some light bondage and feather play. I said yes, I'd be very interested in trying that with him. The next night I came home and there were some things on the bed, silk scarves, a blindfold, some red candles, and a feather.
I undressed and got on the bed and he tied me up to the bedposts limb by limb and then slipped the blindfold on me, I could hear a match strike as the candles were lit and placed on the bedside table. I then felt the softest tickling sensation as the feather was lightly traced over my entire body, across my lips, down my breasts, my tummy, my inner thighs. It felt delicious and I was soon squirming on the bed seeking further attentions.
I then felt his hands on me running over me, grazing my inner thigh and upwards, to my pussy lips, which were now dripping. My wetness opened them without him even having to try, I then felt his fingertips grazing me lightly, making me buck upwards to him to feel him on my clit. He finally delved deeply enough to let me feel him and he rubbed up and down on it. As I was tied, my motions were somewhat limited, but he was doing a good enough job I didn't need to move much on my own. He would bring me to the brink and back again and all of a sudden, his pressure and speed increased on my clit and I knew I was about to go over the brink of pleasure and I exploded for him. He then wasted no time in going down to lap up my juices and I came yet again. It's always good to try new things!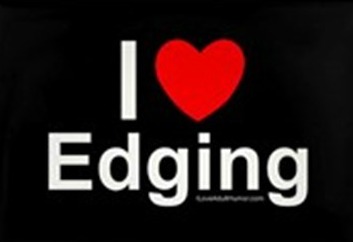 I love the tease and denial phone sex callers, they are so much fun. I do enjoy denying men, as most deserve to be denied as far as I'm concerned. This man called this morning and he was in a chastity device his girlfriend had placed him in six weeks ago. Six long weeks, with no sex and certainly no masturbation, zero orgasms for him, and she regularly enjoyed masturbating in front of him to further rile him up and know he wouldn't be allowed to cum until she said so. He didn't think he'd be able to cum wearing this device, but he was going to try. Of course she'd know nothing about it.
His chastity device had these small spikes on the inside so if he became aroused and erect, they would further dig into his cock, and there were only slits in the side for ventilation and to allow soap and water to rinse through in the shower and to allow urine to escape. He was trying holding a Q Tip through the slot to stimulate the tip of his penis, I was laughing as he told me this absurd thing he was doing, but he'd managed to get himself hard and wanted to cum so very badly.
I started talking about if I was sitting on his face, what a privilege that would be for him to taste my pussy and he was working his Q Tip and struggling with the spikes creating pain, it was all rather bizarre, but he said he thought he was going to be able to cum, and after a few more minutes of Q Tip manipulation through the slots, he was indeed able to cum and said I'd made him feel so much better and thank you. After six weeks, it didn't take him long. Poor bastard, tease and denial, he said he'd be in the device for two more weeks then let out for three days before being locked back in again.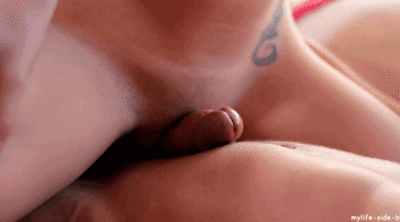 Some callers are into tease and denial. I always like to please my callers, so it's hard for me to not talk them to release. There have been a couple of phone sex callers that I was able to do this sort of call with successfully. The one I do miss and hope he finds me again someday. He would absolutely beg for it and I'd have him going for over twenty minutes as I described in exquisite detail how I'd let him feel my pussy, but he wasn't going inside of it. Another wanted me to hang up right before he was going to cum and laugh at him as I did so.
Him laid out on the bed, sometimes tied, and me pushing my wet, shaved pussy down on his cock and riding it as in the animated picture above this post, grinding against his cock and him begging to feel it be put inside, but I wouldn't let him, there was long talk of him licking my pussy, making me cum time after time, but no release for him. The rubbing of his cock head all over my clit, feeling the spreading, sticky wetness of my pussy dripping all over his cock and balls. His need for orgasm so great, and to leave him with balls purple and achy and filled with cum with no promise of drainage, only a few days of pain until the build up of blood drained away.
Some will stop and not cum at all. One I talked to recently said he gave up cumming years ago, now it's just edging with no release. I seriously do not know how guys live like that, a few days with no orgasm and I'm starting to squirm and need some orgasms.