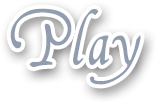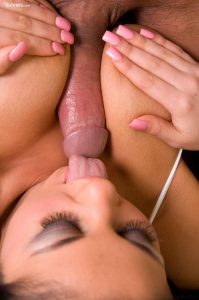 I love fucking my boyfriend, no doubt, and I love having phone sex when he's out of town as well. One of the things he most enjoys doing with me when he's here though is fucking my big, bouncy tits. I have D cups, and those billowy tits really get him going. I don't mind him giving me a titty fuck one bit. I like licking the head of his cock as he pushes it forward up under my chin. We have titty fucked many times, both we me on my back and me kneeling on the floor in front of him with me squeezing my tits around his shaft and bouncing it up and down.
His cock brings me so much pleasure, I'm glad my tits can do the same for him. Once when we had phone sex, I described in detail how I loved when he fucked them as I squeezed them together as he was fingering my cunt reaching behind himself as he did it. I was bucking my hips up and down feeling his middle finger glide up and down against my clit, getting my pussy all soaking wet I was turned on so much by how he made my pussy feel. His beautiful cock kept peeking through those big tits of mine, making them all slick with his pre cum that was leaking out of his cock.
We like all sorts of ways to fool around, this is just one of them. He likes to lay his cock between my cunt lips to tease me before entering me, laying it between them like a hot dog in a bun, not inside, but just gliding it back and forth against my clit driving me fucking wild. I get so wet, by the time he does stick it inside, I have totally coated his cock and balls with my juices. It's a great way to get warmed up for sure.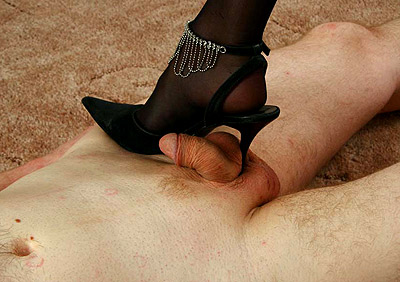 I love when guys call up for cock and ball torture phone sex. It always amuses me they want their most tender bits hurt. Lots of guys have pissed me off in my life, so it's really easy to imagine any of them in the place of the worms on the phone. Kicking them, kneeing them in the nuts, no issues here. I'll kick those family jewels until they go back up in your stomach, loser! LOL!
A crying heap on the floor is what my goal is for you. Think I care if you're squalling in agony? Nope. Most men deserve pain, and I'm more than happy to dole it out. Better get out the fishing line and the nail glue, since I want to encase your cock in fine, clear wire and glue your pee hole closed. Your pain is nothing but amusing to me. I'll put on five inch stiletto heels and pin your useless dick underneath. You'll have to beg and cry for me not to go all the way and impale that useless appendage. You'll really have to beg to convince me not to, I can promise you that!
How about if we get a lemon, cut it in half, and then squeeze some of that juice into your hole. Sound like a plan? I want you to feel the effects of talking to me on the phone for your cock and ball torture phone sex session for days. If done properly and you do as you're told, you will. I can promise you that. You think you can do a number on yourself, it's nothing compared to what I have in store for you. You'll need medical grade pain killers by the time I'm through with you. Think you can handle it? We shall see, won't we now….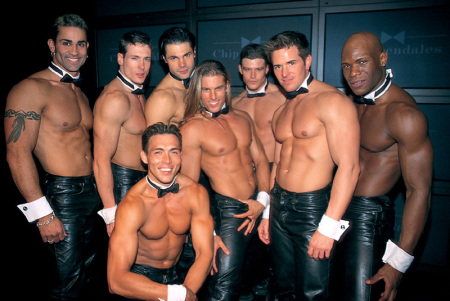 Last night was my birthday and some of the girls from my condo building took me to a male strip club and we got pretty raunchy! I'd never been to a male strip club before and some of the male dancers were pretty good looking, such fantastic bodies on them, you wouldn't believe. This one dancer was very attentive to me, they told him it was my birthday and he put on an extra special show for me and after the dance was over, he gave me a matchbook with his number on it. I put it in my purse but didn't think much of it.
A few hours later as I was getting ready for bed, my roommate was out for the night so I had the room to myself for a change. I was honestly a bit tipsy and was fumbling through my purse for something and the matchbook came tumbling out with the strippers number on it. It was nearly three am, surely I couldn't call at this late hour, but he'd been so good looking, and he wouldn't have given me the number after all if he hadn't wanted me to call, right? So half in the bag though I was, I dialed the number and he answered on the second ring. I mumbled I doubt you even remember me, but I was the birthday girl from earlier in the evening. He said of course he'd remembered me and he'd actually been hoping I'd give him a call.
He then started asking me where I was sitting, if I was still in the same out from before and getting more and more personal with each question. Then he asked me if I'd touch myself for him. I didn't even think about it, I just did it and it felt really good. He was obviously very good at this and I'm betting had gotten lots of ladies to do this and had me cumming explosively in no time flat. I was so turned on, he had me do it again and that time he joined me and we came together. He asked me if I was free the next night and would I like to go out with him, it was so hot, I of course said yes, so I'll have to keep you up to speed on my date with the male stripper!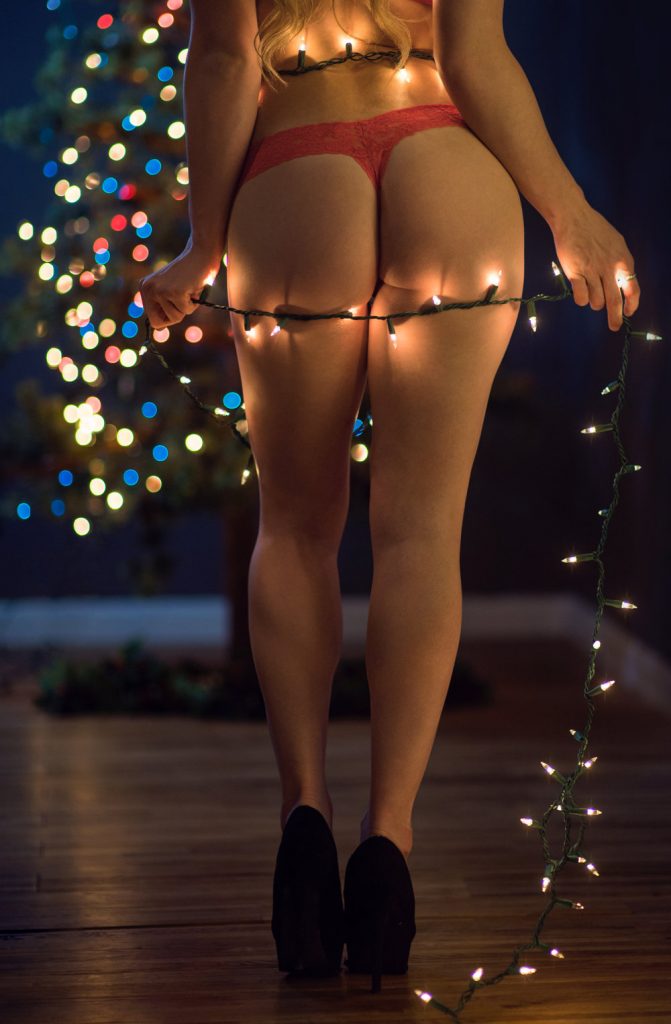 My boyfriend had a bit of a silly roleplay idea. I'm not much into roleplay at all, but it is Christmas Eve, so I thought for his sake I would go along with it. He wanted to pretend to be Santa Claus and I was to play a young girl creeping down out of her bed to see if Santa had placed my presents under the tree yet. Ok, I will play along. I'm kind of glad I did after how it turned out. I crept down the stairs and saw him taking presents out of his sack and laying them under the tree.
I was wearing some sexy lingerie I'd gotten for the occasion he hadn't seen yet. He turned around when I asked him if that was Santa in the dimly lit room, only the light of the Christmas tree lights to light the room. He stood up and gasped at what I was wearing, I knew it was a gasp of approval. He came over to me and I ran my fingers through his beard and he smiled. He sat down and pulled me into his lap and asked me if I'd been a good girl or a bad girl this year. I leaned in and whispered very bad, but that wouldn't affect my getting any presents, would it? He chuckled and said not the kind of present he had in mind for me!
He had me stand up and told me to strip down, there wasn't much to remove. Then he took off his Santa outfit and told me to lay back on the rug in front of the roaring fireplace. He knelt down with me and I could feel his hardness against me. I opened my legs wide for him and he slid his cock inside my already hot, waiting and dripping pussy. I purred with pleasure as he sank his cock into me and began to make love to me. I reached down and gripped his ass cheeks and pulled him even deeper inside of me and wrapped my legs around him to hold him tightly against me. I could feel his breath on my neck and my hard nipples against his chest. His cock easing in and out of me with every quickening stroke. It didn't take me long to cum all over his shaft, and he soon shot his load into me, on Christmas Eve, right there beside the Christmas tree in front of the fire. It was a wonderfully romantic and tender moment for us. Merry Christmas to all, and to all a good (and sexy) night!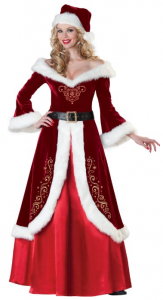 Every year I like to do something very Christmasey. I volunteer at the mall for a day dressed as Mrs.. Claus to help greet the children going to see Santa. It's usually quite fun. This year however, it turned a bit more naughty than I thought it would. One of the "elves" was a very cute high school senior that just turned eighteen. He looked so cute in his little green outfit and tights, and I could tell he had a fantastic body. I told him on my way home that I asked Santa for something very naughty that year. He grinned and asked what I'd asked for. I said I wanted a frisky elf to play with!
He laughed and asked if he was the frisky elf. I said yes, would you like to come home with me and have some egg nog? He couldn't resist a horny, older woman coming on to him. We got to my place and I poured us some egg nog. We sat and admired my Christmas tree and I put on some sexy Christmas music played with a sax, what's sexier than a sax? So he knew I was warm for his form, so he wasted no time in reaching over and putting his hand under my skirt. He teased my pussy lips through my damp panties and he could tell how turned on I was.
We walked to my bedroom and stripped out of our costumes and were soon naked on my bed. My little Christmas elf had quite the lovely young cock and I soon was touching it and sucking on it as he groaned in pleasure. He told me to sit on his face, and he was soon tasting my sweetness and driving me wild. He might have been young, but he was very talented in his sexual skills. I soon got on his cock and sank down onto it, bucking back and forth, teasing my clit against his young shaft and dripping all over him, making him a sloppy wet mess. I soon came all over his dick and then my orgasmic contractions soon triggered him to shoot his young seed inside of me and I was feeling him go off inside of me, it was so sexy. I told him I wanted to see him again, and he said he'd be happy to come over any time I wanted him to. Christmas came a bit early this year for Mrs.Claus.