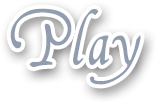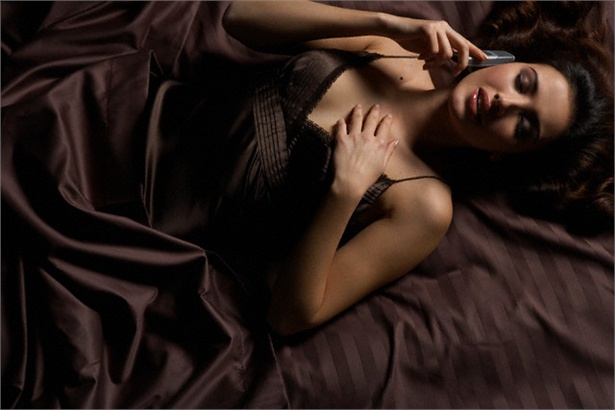 None of us ever wants to get caught when we are masturbating or having phone sex, that's pretty damned embarrassing! However I'm sorry to say it happened to me last week. My sister was staying with me over the weekend since her apartment was being painted and she couldn't stand the smell of paint so was staying with me until the painters were finished and the smell had evaporated.
She's always been a sound sleeper, when we were growing up I could have blaring music and she'd remain dead to the world in such a deep sleep, so I didn't think anything of it when my boyfriend who's out of town on business messaged me that he wanted to have phone sex before bed. She'd gone to bed a couple of hours before, and I didn't think a thing of it. I was rubbing my pussy and talking dirty, sheets off of me, legs wide open sliding my fingers in and out of my cunt, not even trying to be quiet when my door opened and there she was asking about a bottle of aspirin! I nearly died! Knuckles deep in my pussy, she looked stunned and saw one hand in my pussy, the other holding the phone, she spun around and walked out and shut the door.
I didn't know what to do, I told my boyfriend what happened and he was laughing, he said to just forget it and continue rubbing my pussy. I thought I heard my sister close the door to the guest room, so I did as he suggested and just tried to put it out of my mind. I started rubbing my clit again and was getting turned on listening to him stroke his cock and breathe heavy for me as I got closer and closer to cumming. It was so hot listening to him and I came so hard, I didn't even hold back, I figured she was likely asleep by now. Not fun getting caught though!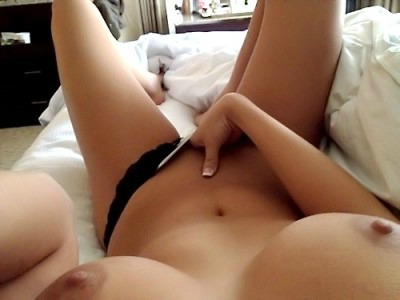 I had just ordered a pizza and hung up the phone when my boyfriend called all hot and horny and wanted to have phone sex. I said I couldn't as I didn't have enough time before the pizza delivery guy arrived. He said sure I did, so against my better judgment I decided to have a quickie phone sex date and pray I came before the pizza arrived. I said I didn't have time to get into bed, so I'd just sit there on the edge of the chair and masturbate that way.
My boyfriend has such a sexy voice, and I was kind of horny anyway and was considering calling him after I ate anyway to get off with him. I hadn't cum in a week and was really throbbing. I could hear him breathing so heavy and moaning so sexy and I was stroking my shaved little pussy, feeling that slippery wetness and driving myself wild with my fingers. My nipples were hard and I could feel a hell of an orgasm welling up inside of me. I was just bucking against my hand, working my clit so hard and fast and sliding my fingers in and out of myself.
Well as it happens so often, I lost track of time and I was not even looking at the clock and I started cumming and I literally yelled out, "I'm cummin'!" as I was having phone sex, and I'm mortified to say as I was in the throes of my orgasm the door flew open and the pizza guy was there and he dropped the box and his jaw dropped. I stared up speechless and all he could stammer out was, "You said come in!" He turned beet red and said, "no charge lady!" and ran out the door. I was mortified and my boyfriend who came at the same time I did was asking what was happening and I explained and he burst out laughing and said he was coming over.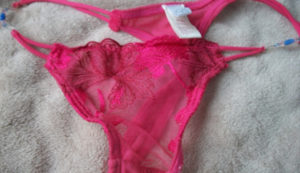 Lots of guys have a panty fetish, and many started by first taking mommy's panties. The number of guys that first take mommy's panties to masturbate with is high. Many have not had access to another woman before when they first take mommy's panties, they've never smelled a pussy before, and they see a pair of worn, dirty, pungent panties on the bedroom or bathroom floor, or in the laundry room, and they pick them up and sniff them and perhaps even lick them.
They are already masturbating like young fiends and crazed to have their first sexual experience, yet haven't yet had a willing girl to play with, all they have is their own hand and free porn online and a pair of dirty panties belonging to their mom. They may enjoy rubbing them all over their cock, being a naughty, dirty boy just wanting to have their cock touch something that has touched a real pussy.
Imagine mommy coming in and catching them and telling them what a bad boy they are, stealing her panties and rubbing them on their cock and she walks over and pulls them out of their hand and asks if they've sniffed them, and they blush and whisper yes. She then tell them to continue stroking their cock and they are unsure, but so turned on she saw them, they resume and soon are going at it as if she isn't even there and then she reaches over and places her hand on her boys cock and finishes him off and he squirts all over mommy's titties when he cums and she wipes it off with the panties and walks out and leaves him, with her cum covered panties in his hand, speechless at what just happened.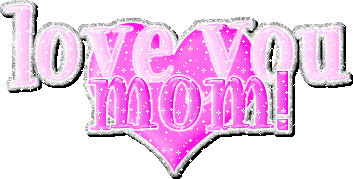 I know lots of guys love to think about fucking mommy. I love young guys, and have no issue playing mommy for them if that's what turns them on. I've talked to lots of guys that have been caught by their mom when they were younger jerking off and it had a long standing effect on them. I spoke to one this week that had been walked in on by his aunt and ever since he's thought about her as he was just starting to shoot when she walked in.
Stroking his young, hard, teenage cock when she came in and he wasn't expecting her too. He was pretty embarrassed, but for over 10 years has thought about how she looked when she came into his room as she was getting ready for work and was just in her bra and skirt and came looking for something on his dresser and saw him rubbing one out and then shoot his load. Did any of you ever have such an experience with your mom, or aunt or sister and would like to talk about it? I know such an event could be traumatic or embarrassing or both depending on how it played out.
Many young kids were punished when they got caught and it's had life long lasting effects on them. Some have turned that embarrassing situation around to thinking about it all these years. How much you'd love to have mommy help you jerk off and masturbate and then maybe even teach you how to lick pussy and then fuck. Imagine cumming inside of mommy's pussy and filling her up with her own little boy's cum…..Mmmmm, sounds hot, doesn't it? Why not pretend I'm mommy and we can talk all about it, sweet boy.